"Metalist" CBN Metal Bond Wheel for Iron Material
By using the metal bond having significantly higher heat conduction than a vitrified bond, the influence of heat on the working surface is minimized.
■ The product not only maintains cutting performance and realizes long tool life, but also suppresses burning of work materials.
■ Since it can suppress heat stress on work materials more than conventional abrasive wheels, reduction of the fatigue-resistant strength of the work can be suppressed.
■ Little damage on abrasive grains and appropriate spontaneous blade generation can realize long dress intervals and reduce down time.


[Target materials for CBN metal bond wheels]
- HSS (High-Speed Steel)
- Hardened Steel (carbon steel, die steel)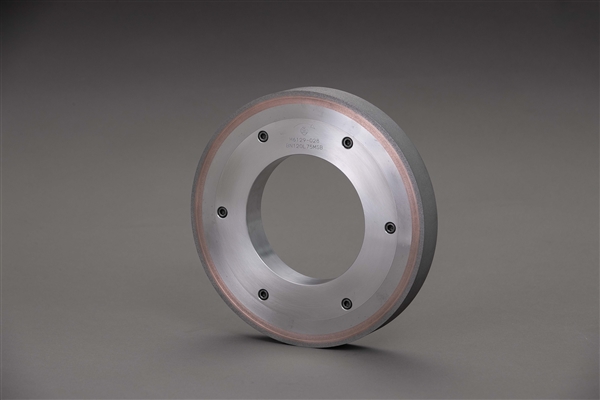 Comparison of life index with general grinding wheel/vitrified CBN wheel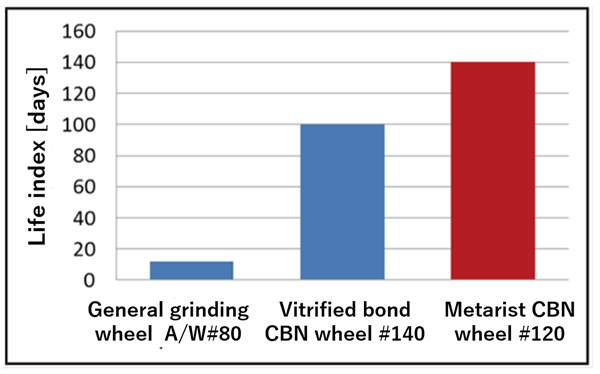 Test conditions for life index comparison
Machine : Centerless grinding machine
Grinding method : Through-feed grinding
Work material : SCM carbon steel (JIS) hardnes (HRC47)
Work size : (φ6-3.5L)-2.8d-38L
Wheel size : φ300-42T(3X)
Bond for grinding wheels
Metal bond
Industories

Work materials

Processing methods