Longer life of finishing notch wheels for silicon wafers
[Issue]
The demand for quality in the notch area of silicon wafers has been increasing year by year, and the notch wheel abrasive grains with a higher grain size number are increasingly being used. The challenge is to increase the service life of notch wheels that use abrasive grains with high grain size such as #3000.


[Solution]
Although the life of the notch wheel tends to become shorter due to the higher grain size number, the life can be enhanced by improving the hardness and strength of the notch wheel bond. In addition, the use of our original dressing technology AD-C allows for further improvement in service life.


We can provide notch wheels that are compatible with various types of wafers, including compound semiconductors.


We are also working on the development of high-precision beveling wheels and notch wheels for silicon wafers.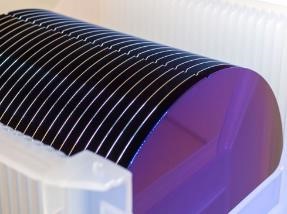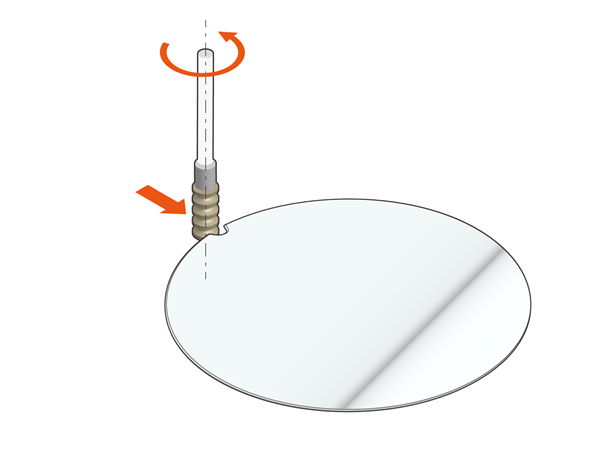 Life comparison test with conventional product
Compared with the conventional bond & stick general dressing, the new bond & unique dressing (AD-C) has achieved a significant improvement in life, especially for #3000.
Applicable tool
Metal bond notch wheel for semiconductor wafers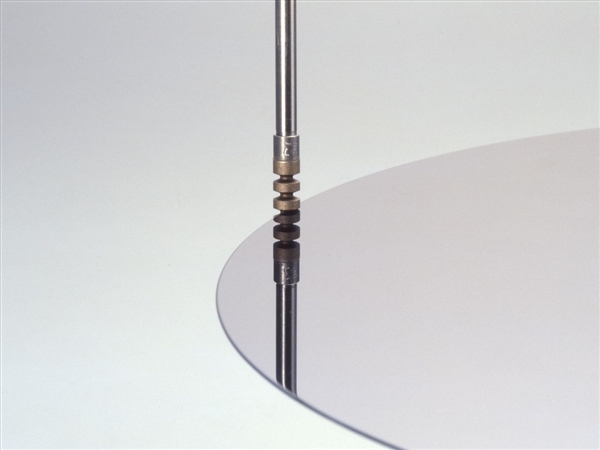 [Possible production range]
Grain size : #400 - #3000
Outer diameter : Up to 4D (Min 2D)
Shank diameter tolerance: h6
Total length : Up to 35L
Deflection accuracy : ≧ 5 um @Min.
Groove shape tolerance : ≧ 1 degrees @ aperture angle
Number of grooves : Up to 5 grooves
This wheel is used for the high-precision notch grinding of semiconductor wafers. Our original processing technology realizes high swinging accuracy of the diamond part against the shank. Wheels with various specifications, such as a wheel with optimized groove shape for sapphire wafers or a wheel for mirror beveling are also available.